Italy – Yoga in the heart of Italy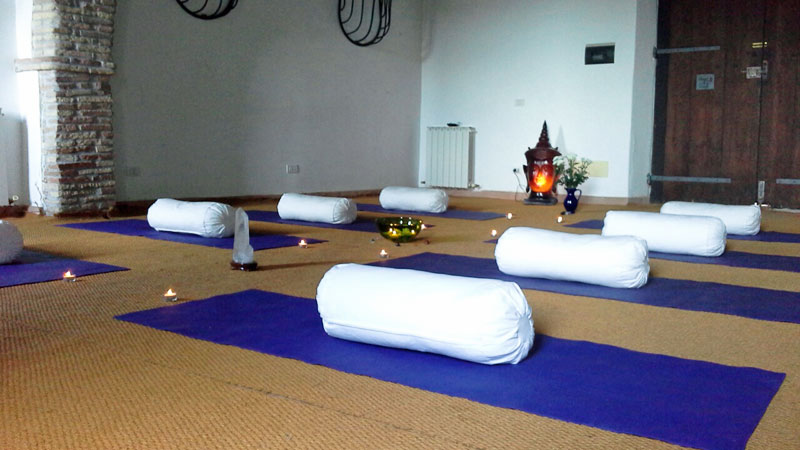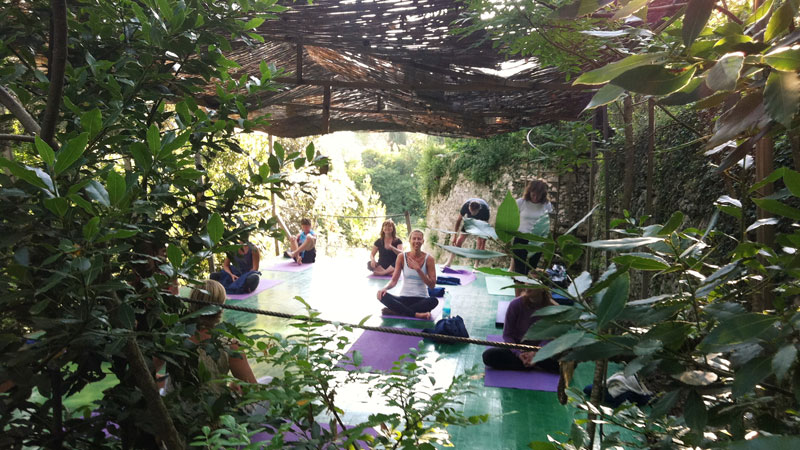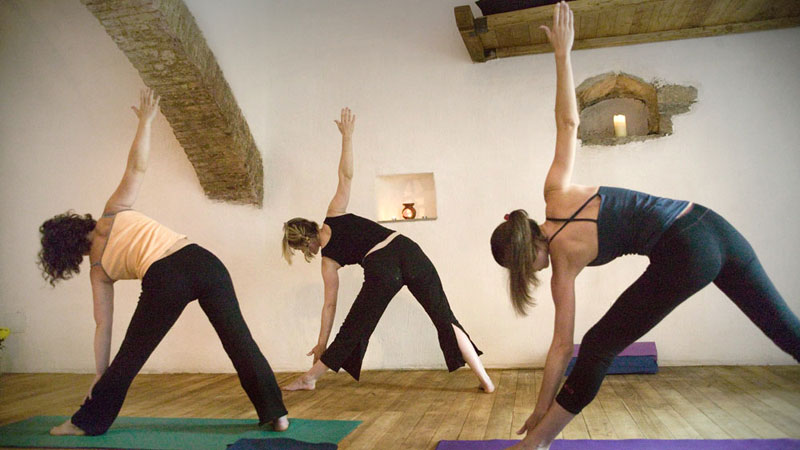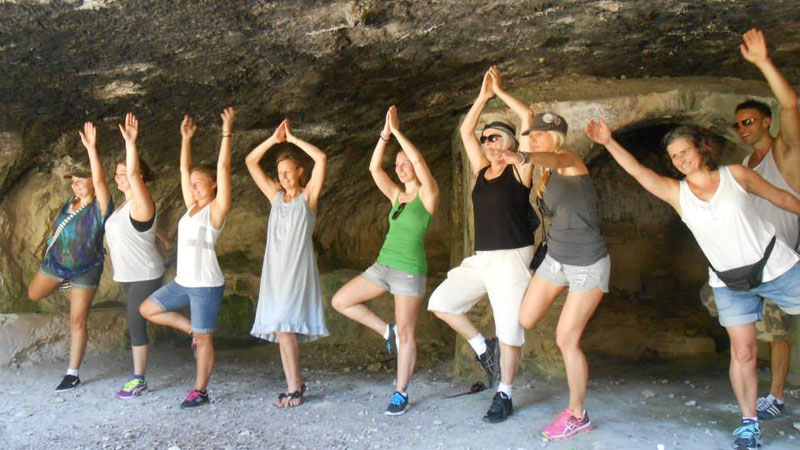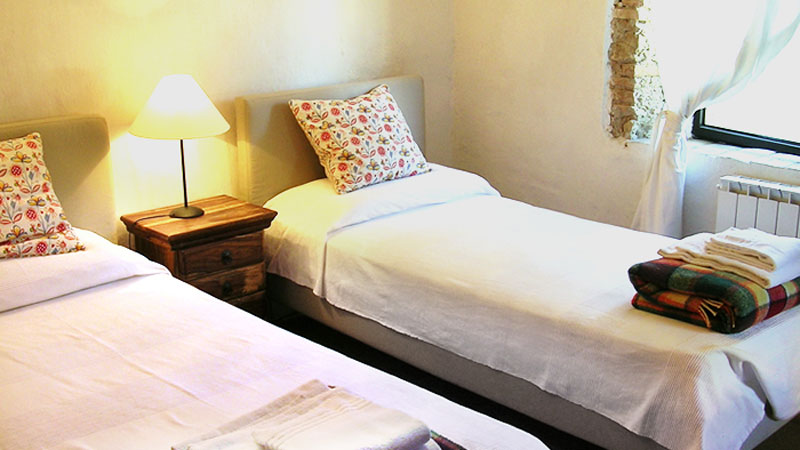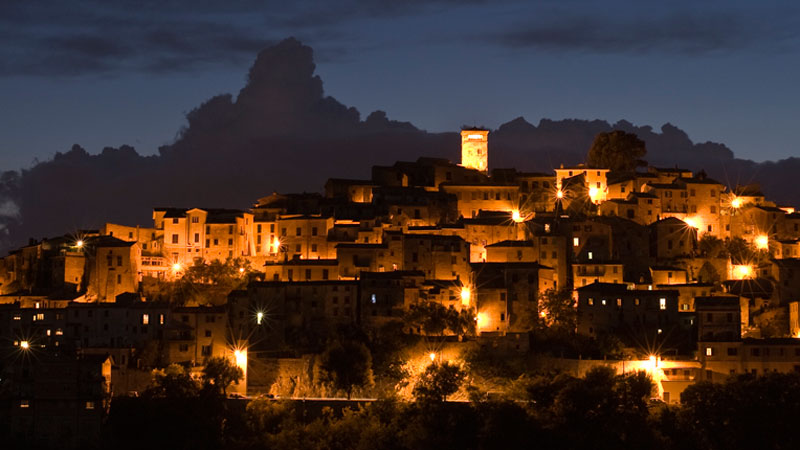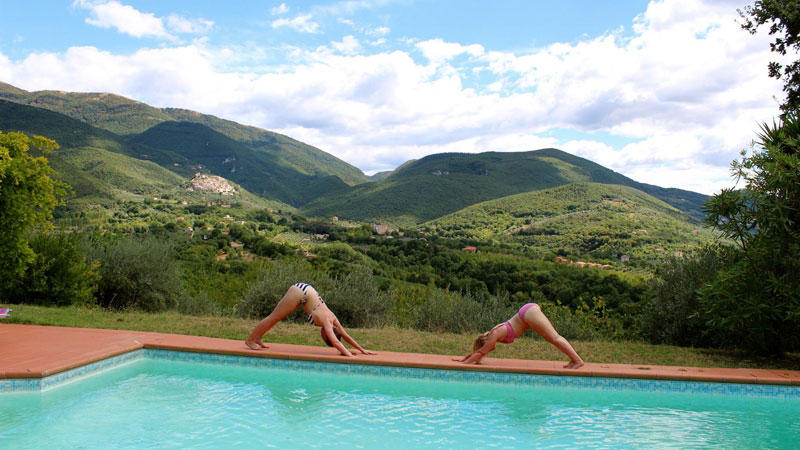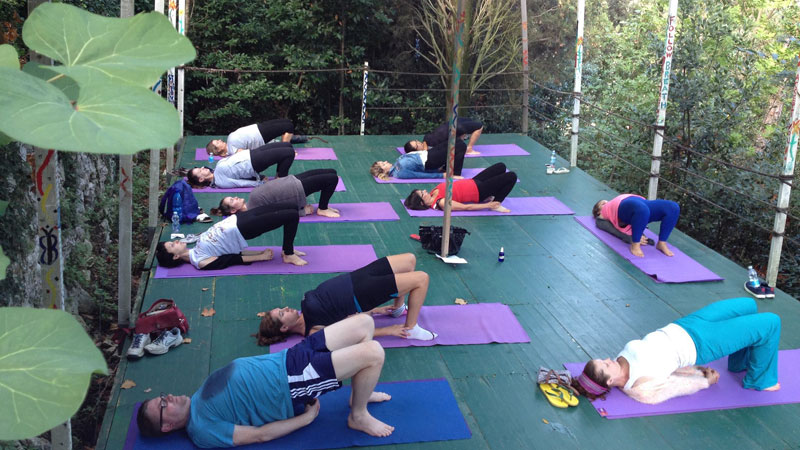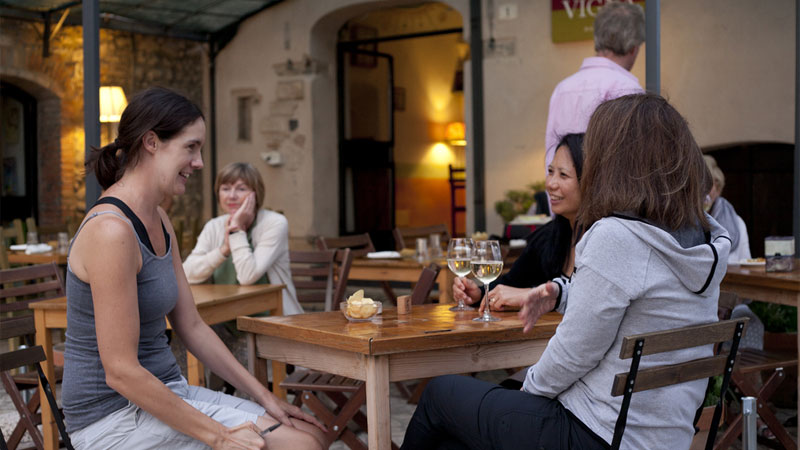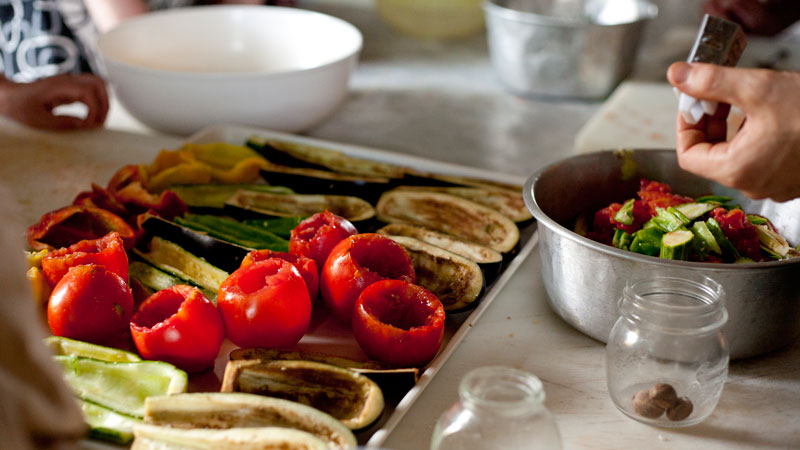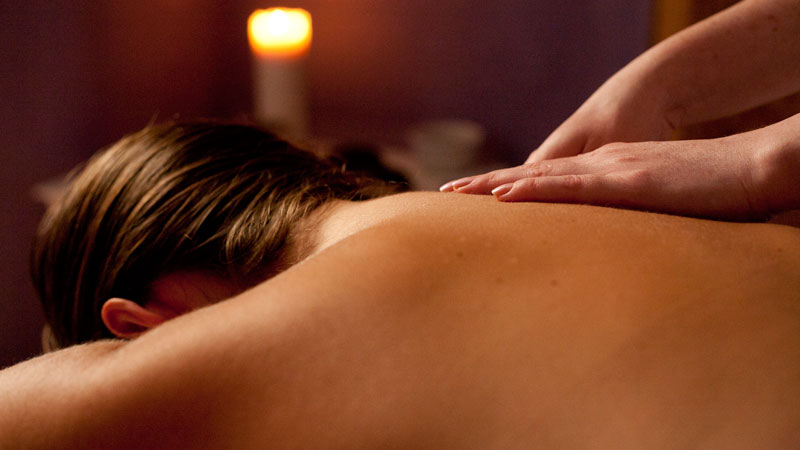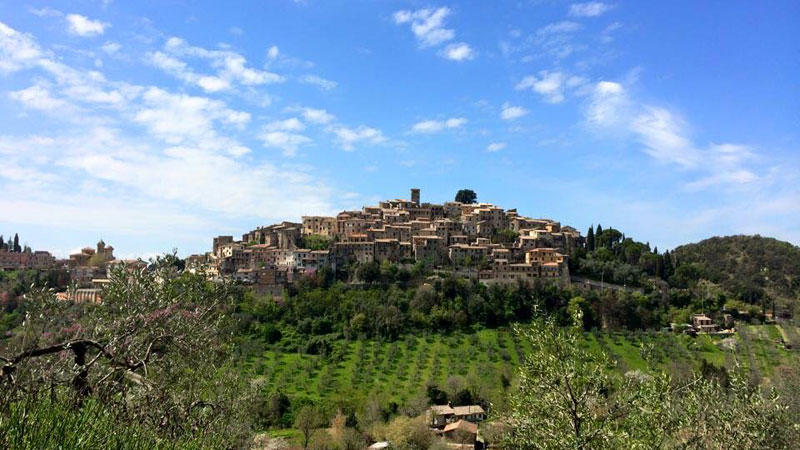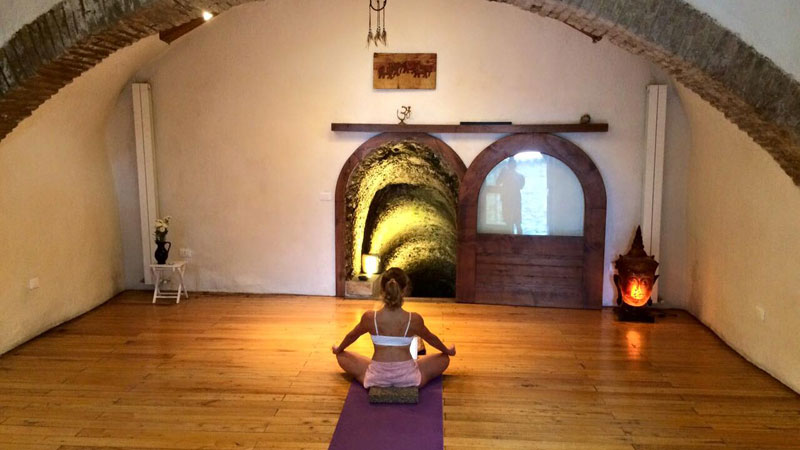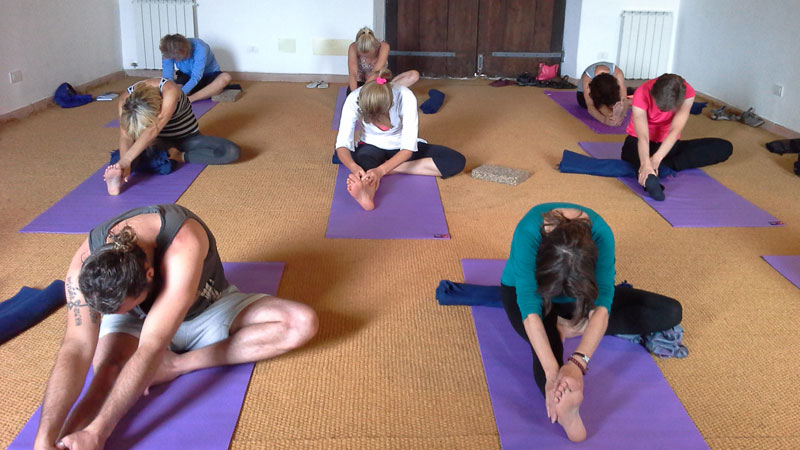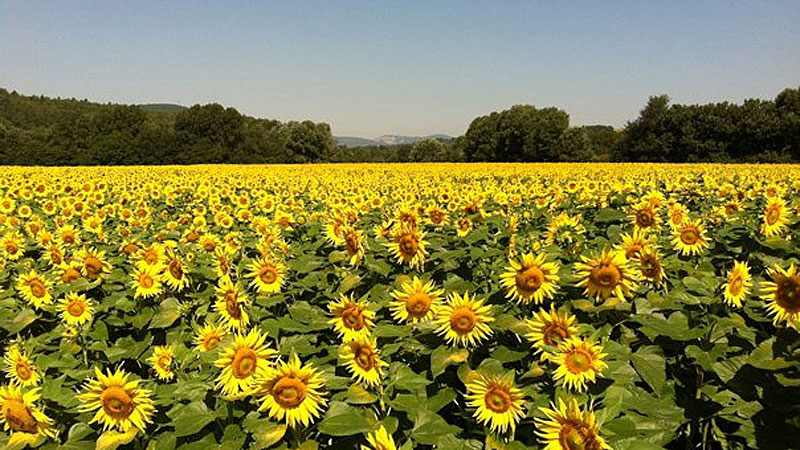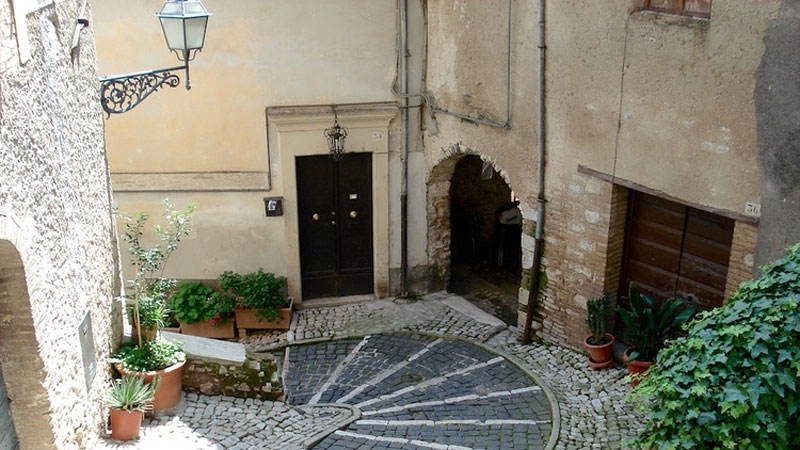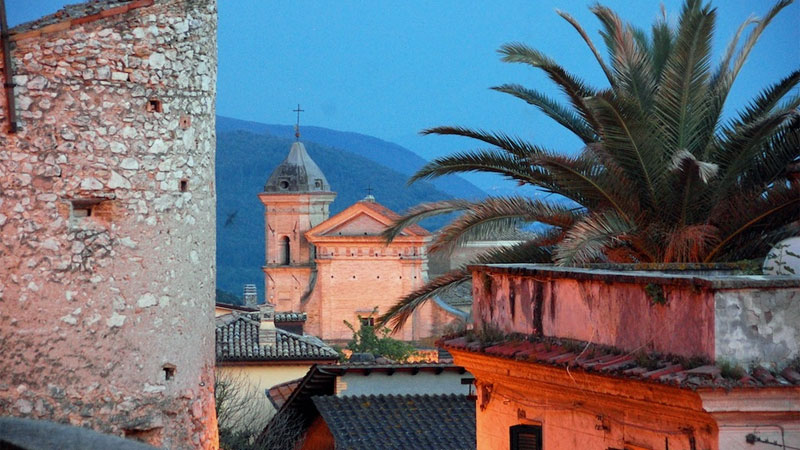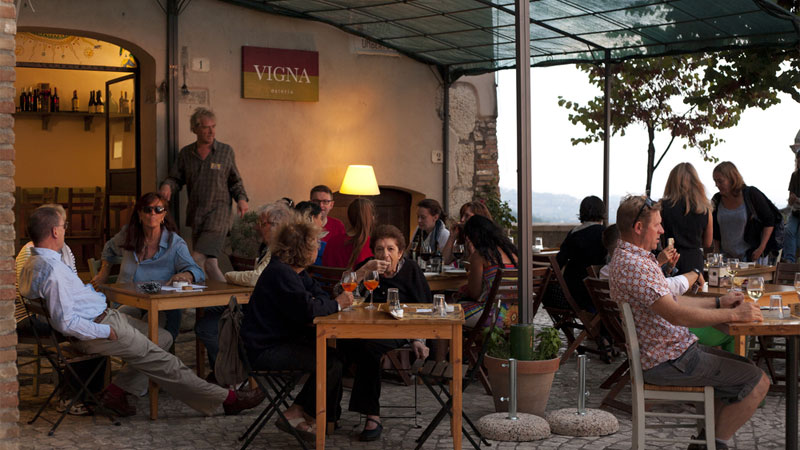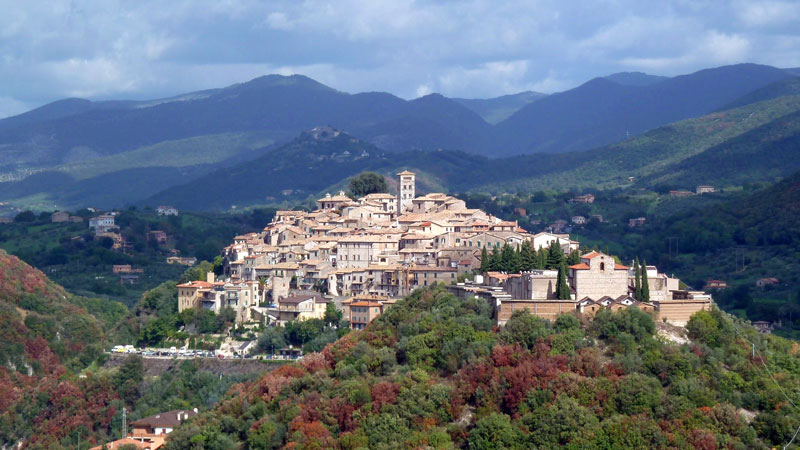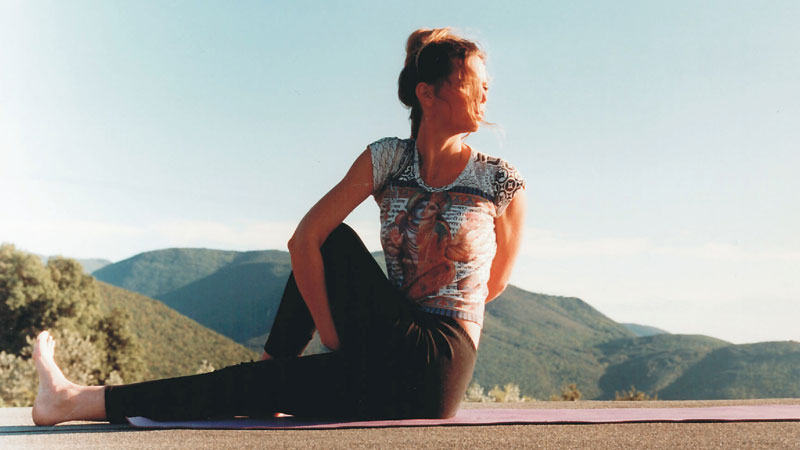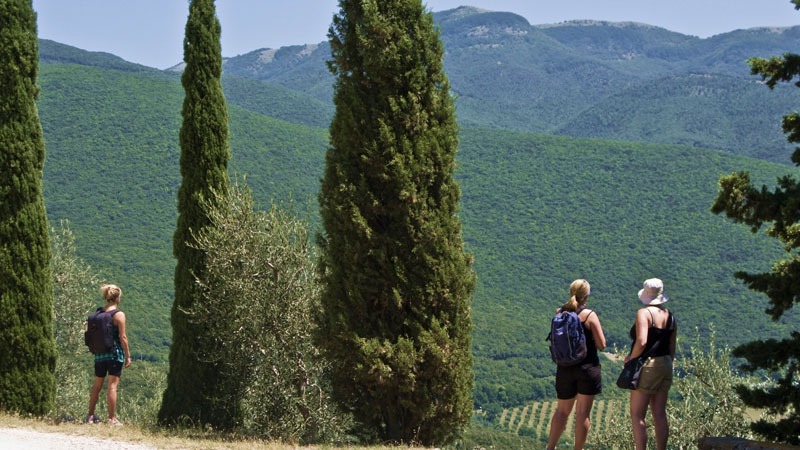 | Several dates |
Relax with yoga in a medeival village in sunny Italy. The philosophy behind the retreat is built on health, relaxation, good food, Italian culture, eco tourism and nature.
The retreat is run as ecological as possible and tries to work with resources from nature and carry on the local cultural heritage. The retreat opened in 1998 and was the first of its kind in Italy. You can choose to stay in a village house or in a more luxuray accommodation.
Yoga
The yoga classes are suitable for beginners as well as more practiced yogis. you will practice yoga in a stunning location on a hilltop, blending-in perfectly with the setting. The yoga style is non-competitive with a down-to-earth approach, created by Lucy and followed by all our guest yoga instructors. The way of choosing yoga teachers is unique: the retreat expect them to be humble, genuine, non-judgmental and spiritual in their approach to their teaching, as all true yogis should be.
The teachers teach a variety of Hatha yoga methods such as Iyengar, Kundalini, Satyananda, Sivananda, Vinyasa Flow, Anusara, Astanga and Yin Yoga.
Classes are held in English, on Friday through Tuesday from 08.00 to 09.30, before breakfast, with some yoga classes throughout the week outdoors in spectacular surroundings when the weather is suitable. Morning classes sometimes start at 08.30 early or late in the season.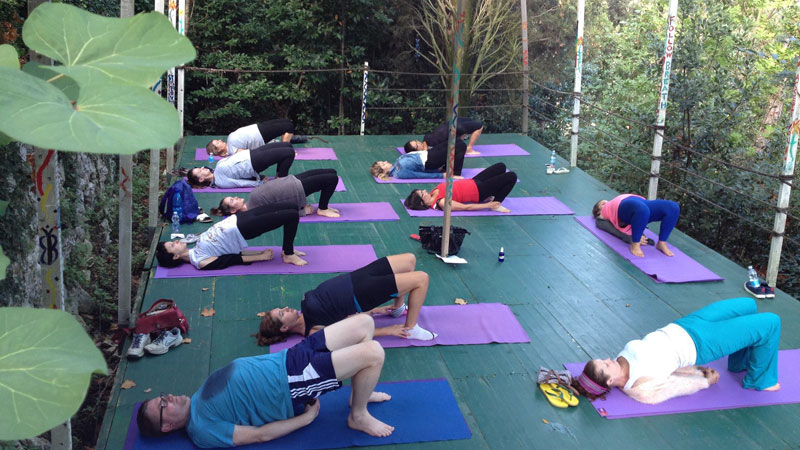 More yoga
For those who would like the opportunity to practice more yoga, optional one-hour afternoon yoga and meditation classes are available Friday, Monday and Tuesday and cost €10 per person and class.
The retreat also offer a two-hour workshop each Saturday, in yoga, meditation and other related subjects costing €20 per person. During the workshop you will cover subjects such as Yoga Nidra, Yin Yoga, Chakra meditation & balancing.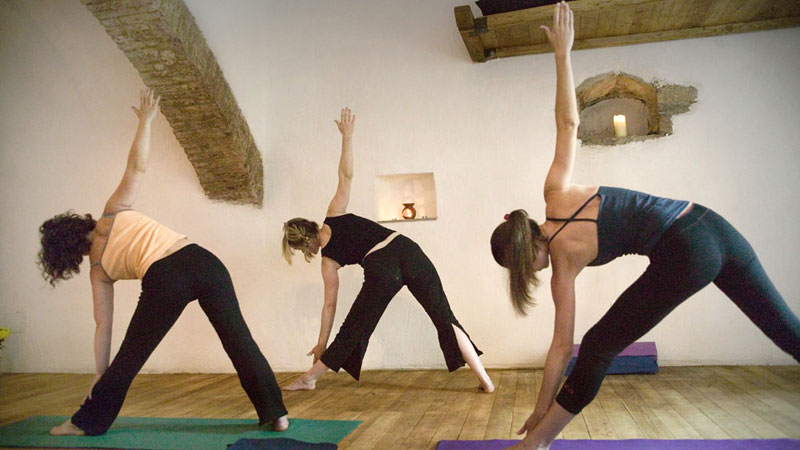 Yoga deck/studio
Outdoor yoga classes take place on our platform which is located in an oasis of green inside the village walls. It's a beautiful and serene environment, with dappled sunlight and the sound of birdsong all around.
When classes are held indoors you will have your classes the retreats own professionally designed and restored 40 square-metre studio, which has a wooden floor, a fresh water spring and an ancient cave as a bathroom. For larger groups, there is also a 50 square-metre professional yoga studio which has panoramic views, coconut carpeting and central heating for the winter months. The yoga classes are attended only by retreat guests.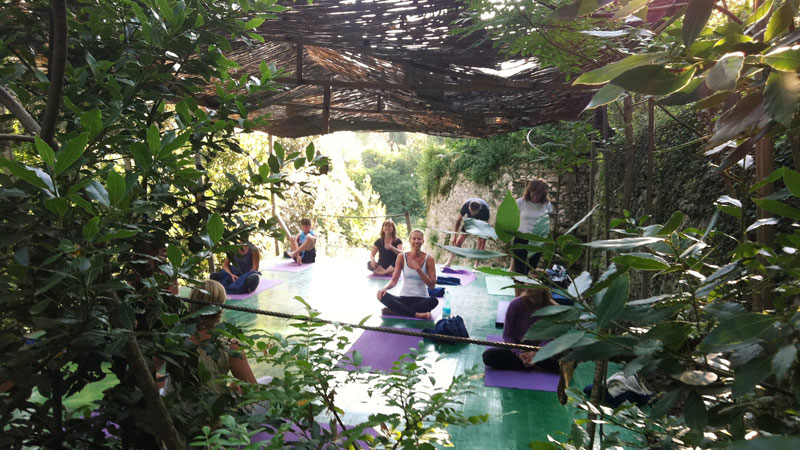 The retreat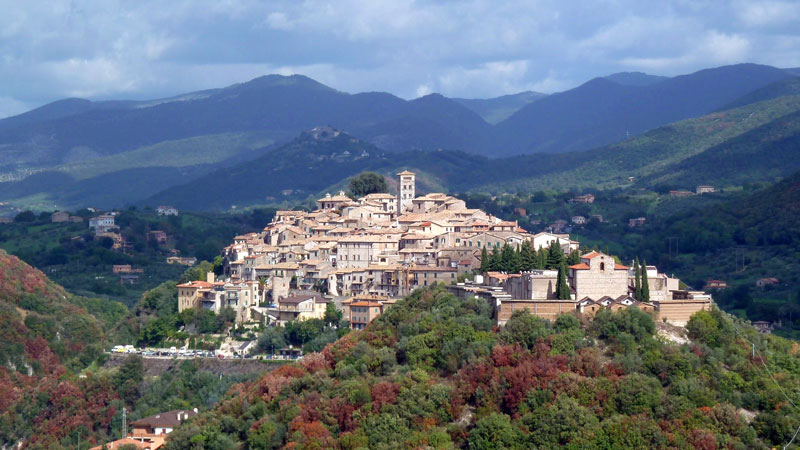 The retreat was established in 1998 and was the first yoga holiday centre in Sabina Hills and the first of its kind in Italy. Over the past seventeen years the ownwers have created a yoga holiday centre in this hilltop village one to which people from all over the world come to rejuvenate and recharge; where people can step away from their busy lives for a short time to be themselves and find tranquillity, enjoying the real Italy, living among local people.
The owners have renovated village houses and buildings, created local employment and worked with the community in order to support the village's economy and integrate the concept of responsible ethical tourism.

This is a 'low profit eco-tourism organisation which supports local communities and nature reserves. This is part of their responsible tourism policy, as the guests live within the community, rather than in a privately-owned retreat. This policy helps to sustain this centre and other locations that they work with, by providing income to independent local families and businesses, including the shops, farmers, and to the guides we work with.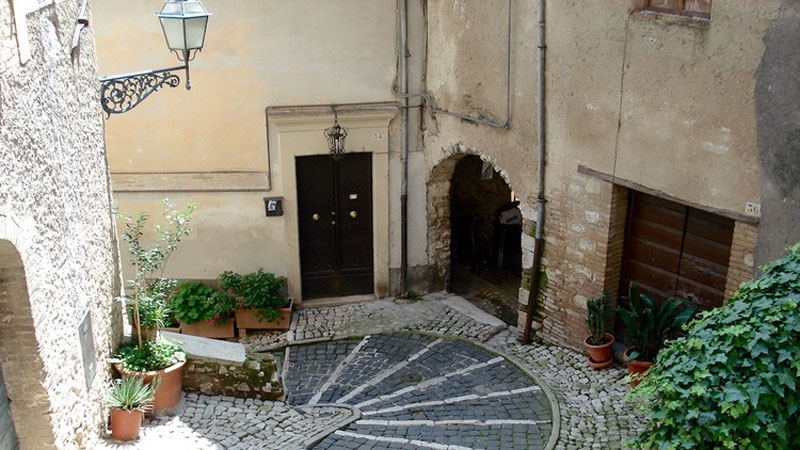 Accommodation & food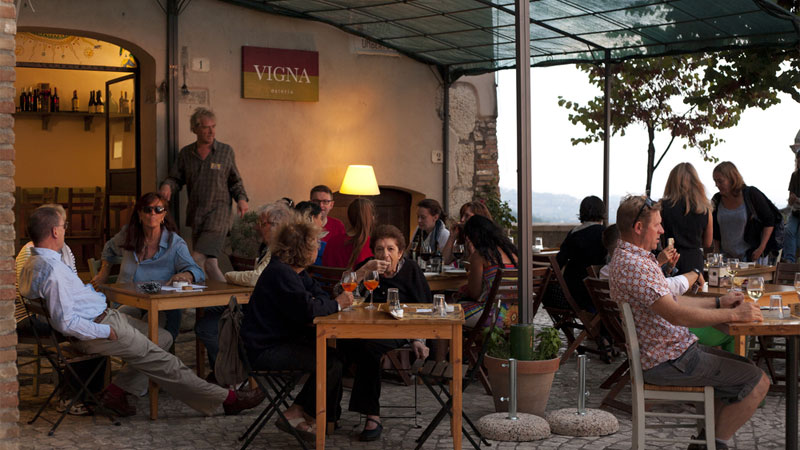 The retreat is located about 1 hour from Rome. In the village you can find a few restaurants, a bar, some cafeés and a supermarket. There is also an ATM if you need cash.
Accommodation
You have the following accommodation options, all are heated and if you want you can cook your own food in one of the kitchens available.
- Village house
You stay in one of the retreat's houses in the village. The rooms are all cozy, rustic and relatively simply furnished and have shared bathrooms. This is the default option. The other options below include price add-ons that you see when you click Book on Request and before you register anything.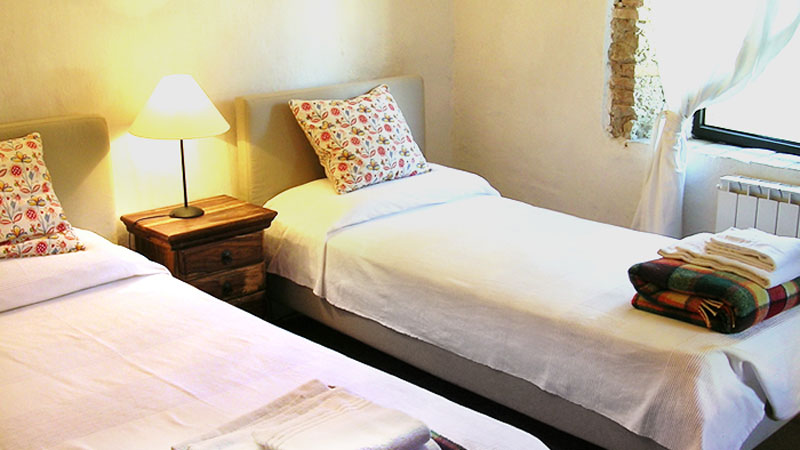 - Casa Latini
Casa Latini is a fantastic renovated building from the 13th century and is only used by retreat guests. It is decorated with elegance with latino and eastern influences. On one floor there is a 1000 year old cave which is now a fully functional bathroom. The house has two floors, each floor has a double room, living room and bathroom.
On the loft there is a small single room with ceiling window and ensuite bathroom. There is also a small double room with ceiling window and ensuite bathroom (can get hot during summer). The double room can be booked as a single room. For tall persons: the double room has limited ceiling height.
A spiral staircase on each floor leads to the terrace where you can enjoy a fantastic view over the mountains and valleys. Do not miss the sunset behing the village!
In Casa Latini there is also a shared living room and kitchen.
- Forani Palace
This beautiful historic property, the original home of the Count and Countess of Casperia, is a restored Italian palazzo set in its own grounds and gardens. It is furnished in the classic 'Italianate' style with the antiques and decor of a noble family home. There are six twin bedrooms with en-suite bathrooms, all can be booked as single rooms as well for those who travel alone.
Each house has a refrigerator and hair dryer. There are no safe deposit boxes in the rooms howver there is one in the recetion if you have anything you want to put there during your stay. Bedlinens and towels for indoor use are available.
Food
- Breakfast:
A buffé breakfast with local organic products is served every morning in the café which was started by the retreat but is now run by people in the village. People from the retreat will be there every morning to help you plan your day and book activities. The café is open in the evenings as well and guests often meet there to enjoy an aperitif and some days there is live music.
If you have special dieatary needs, please let us know as soon as possible as this small Italian village does not have all products need for special diets.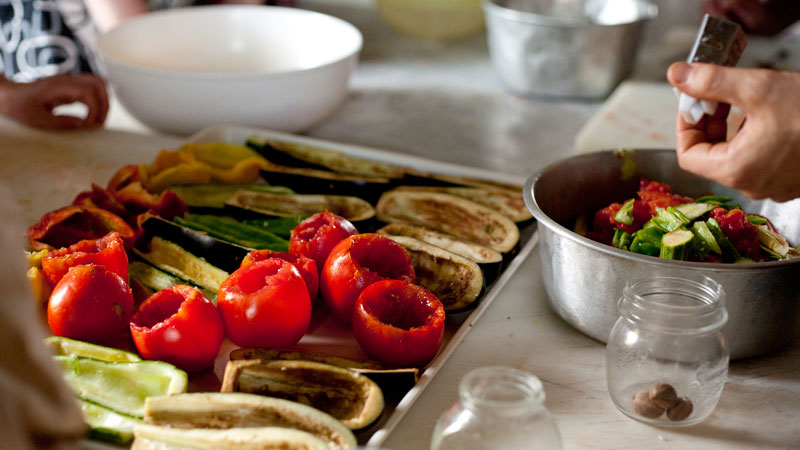 - Lunch:
Visit one of the snackbars in the village, the pizza parlor or cook your own lunch.
- Dinner:
Snacks, drinks, aperitifs and music can be found in the café. Dinner, snacks and pizza can be found at one of the cafés, bars or pizza place. If you want to cook your won food you can visit the local supermarket. There is also a small store with ecologic healthy food.
Some of the evenings transport can be arranged to the neighbouring villages where you can find small restaurants and local festivals. (Transport is not included in the price)

Travel & Facts
Included:
- Accommodation 6 nights
- Breakfast everyday
- Dinner on arrival day
- 5x90- minute yoga classes in the morning (Friday- Sunday)
- 3x 60-minute yoga class in the afternoon
- Use of private countryside swimming pool (ca 1 km)
- Use of our bicycles
- A guided walk in the Sabina mountains
- Transport in our minibus to local village restaurants some evenings.
Not included:
- Flights
- Transfer
- Lunches and dinners except on arrival day
- Treatments and excursions.
Travel: Fly to Rome (FCO or CIA)
Transfer: The retreat is located in teh Italian region Lazio, about one hour north east of Rome. From the airports in Rome it takes about 90 minutes to get to the retreat by bus and train (details information with booking confirmation). Another option is to rent a car and drive to the retreat. If you do that you have the possiblility to discover the area on your own on your free time during the week. From Ciampino it is possible to book a transfer. It costs 65 EURO per person if you are at least two, if you are alone the cost is 130 EURO. Transfers are paid directly at the retreat but you book it through InShape Travel.
Check in time: From 12.00 on arrival day.
WiFi: Not in accommodation. WiFi is available in breakfast area and 2 cafeés in the village about 2 minutes from accommodation.
Pool: Yes, open from May to end of season (depending on weather). Not heated. Is located outside the village. Walk to the pool, cycle or use the free shuttle service.
Yoga equipment: Yogamats and other yoga equipment is avaialble but you are welcome to bring your own if you want too.
Spa: The hotel does not have a spa but it is possible to book holistic treatments during your stay. This is done at breakfast everyday.
Tips: Tips are not expected but appreciated if given.
Special diets: No problem, let us know when you book.
Age limit: No age limit for accommodation. To participate in yoga classes you must be 16 years old.
Currency: EURO.
Credit card: You can pay with credit card.
Fellow traveller: 100 EURO discount if you chose not to participate in the yoga.
Carbon offsetting
Carbon offsetting your air travel is a good way of taking responsiblity for the emissions caused by it. You can easily carbon offset your trip directly with us when you complete your booking, and you will immediately see what it costs. We collaborate with the organisation GoCLimateNeutral and the amount goes to replacing wood and coal stoves for solar-powered fireplaces in the Chinese countryside in an UN-certified climate project that has the Gold Standard certification. If you want to dive deeper into the climate compensation, you can find more info here.
Climate