Sri Lanka - Elevate your yoga - Ayurveda, Asana and Awareness with Ulrica Norberg
Join Yogamaster Ulrica Norberg in this 10 day immersion of bliss on the beautiful Island of Sri Lanka 8 March to 17 March 2018. This is a beautiful opportunity to escape the mundane and re-fuel in the beautiful settings of Talalla Resort in Sri Lanka.
This retreat is a great way to nourish yourself, restore your energies, heighten your level of health and awareness as well as deepen and evolve your yogapractice. This time together is a great opportunity to call together of community to build our understanding of the potential of this practice through asana, meditation, pranayama and self-study.
Our focus for the retreat is on how one can with the help of yogic and Ayurvedic methods, breathwork and meditation techniques, elevate ourselves from our habitual patterns and also to feel better on all levels. It is all peoples right to feel at peace with themselves as well as buidling a heatlhy body, calm mind and stable and attuned soul.
With Ulricas individual approach to yoga, you will learn to tailor your practice to your personal needs - whether you are at your progression of this practice, a beginner, or advanced/yogateacher.
Talalla Retreat is a beach front boutique resort on a pristine, white sandy beach with calm turquoise water, at the southern tip of Sri Lanka. It comprises seventy rooms including ocean view villas, bamboo huts and the ever popular deluxe rooms. Elegantly designed rooms include open air marble bathrooms, private patios and great views of the lush gardens. There is something for everyone. The retreat has a 20m freshwater lap pool, three custom built yoga pavilions, spa facilities and an open-air restaurant serving the freshest healthiest meals. They grow organic vegetables for the kitchen…uses good stuff and cooks it well…
Your instructor Ulrica Norberg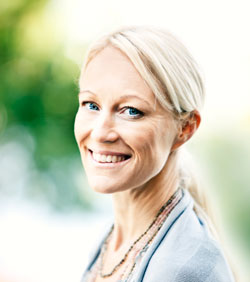 Ulrica has been studying and teaching yoga for over twenty years and has extensive experience in a wide range of different yogic systems and paths. Her teaching style is inspirational, generous and warm and reflects elements from her own meditation and yoga practice, teaching experience, life and studies. She holds a Masters degree in film and journalism, lived in the US for many years and travelled immensely around the world before she returned back to her native Sweden where she lives today with her husband and their two little kids.
Ulrica has played an important role in yogas growth in Scandinavia from the 90´s on, she has trained over 500 yoga teachers and is an admired teacher, trainer, mentor and author of several articles, books and films on yoga.
Today Ulrica is working as a dramatist, editor and writer as well as teaching yoga and meditation trainings, retreats and workshops in Scandinavia, Europe and USA. In Spring of 2015, she reached the highest honor a yogi can receive when she was initiated to YogaMaster (Yogiraj) by KaviYogi Alan Finger, which makes her the first Scandinavian to reach such level of achievement.
"When you start taking yourself too seriously, the yoga is gone. This practice is all about investigation and exploration in order for light and insight to appear."
Program
Ulrica invites to your mat for some yoga/meditation session every morning and late afternoon. In between you can swim in the pool or ocean, lay in the garden or on the beach reading or just enjoy the sunrays and being with the now.
You will get
- 2 classes a day (except arrival and departure day and very likely not on the excursion day). The morning class is of Alignment flow nature with a guided meditation at the end. The afternoon class is of more restoring/ intuning nature like Pranayama, Yinyoga, Yoga Nidra or Restorative Yoga.
- 2 Talks on Yoga by a renowed Yoga Master as Ulrica
- 1-2 Technical labs
- 1 Ayurvedic Massage
- 1 Excursion
..................................................
You will learn how to adapt your practice to set your needs; whether it is to mold the approach in your practice after an injury or medical condition, deepning your minds eye in meditation, evolving your techincal skills or simply have fun exploring all the aspects of yoga.
Practices will be taught through the lens of Ayurveda and its correlation with meditation and yoga. You will be guided to read your pulse everyday and Ulrica will offer talks about yoga, meditation and ayurveda as well as give technical lab time. By the end of this retreat you will have a better understanding of how to refine your yogapractice for your own benefit.
All props you might need is provided: yogamat, blocks, strap, blanket/log scarf, eye pillow. However we always recommend to bring your own mat if you have one you love and are used to.

Accommodation
Located on the southern coast of Sri Lanka, Talalla is a serene and breathtaking bay that is the ideal setting for a Yoga Retreat. Each morning, a stunning sunrise welcomes you to this pristine paradise and gives way to the tropical sun. The quiet bay comes alive with the warm breeze, the sound of the ocean waves, and the incredible variety of wildlife.

The facilities at Talalla Retreat are second to none. Well appointed rooms, excellent food, fresh juices, a large swimming pool, and the sprawling common areas are all yours to enjoy. They also have a very skilled team of massage therapists and a wide variety of indulgent spa treatments.
Here are two separate outdoor yoga shala's, both are large spacious open air custom built studio's, cooled by sea breezes and overlooks lush tropical grounds.

The main Yoga Shala is one of the largest yoga spaces in Asia and was created to accommodate classes of up to 45 participants, and is equipped with everything you need including mats, blocks, straps, and bolsters.

Practicing within this outdoor yoga shala is a unique and unforgettable experience. The natural surroundings and fresh crisp air add to the benefits of the practice. Yoga is all about being one or part with nature. Hence, doing yoga exercises in the outdoors is one of the best ways to truly experience the benefits of yoga.
The resort's freshwater swimming pool features at the centre of Talalla's lush gardens and is conveniently close to the restaurant in the event of a poolside craving.
It is 20m long, ideal for lap swimmers or lazy days just floating around.
Rooms
The Deluxe First Floor rooms get you up and into the jungle canopy.
A beautiful four poster bed, an expansive open air bathroom, secluded balcony and a view through the palms make this room a definite repeat guest favorite!
Be sure to bring along your favorite book for an afternoon read on the balcony.
The ideal room for anyone who loves open spaces, fresh air and a beautiful connection to nature.
You can upgrade to a Bamboo Hut. The beautifully designed Bamboo Huts epitomize the endeavor to remain Sri Lanka's leader in Eco-Hotel experience. Listen to the sound of waves in the distance, hear the monkeys playing in the trees and understand what being connected to nature is all about. You find the supplement in step 1 when you go to "Book on request" and before you fill out any information.
Meals
Nourish your body at Talalla's signature restaurant, where only the finest local and seasonal produce is selected to foster the best in wellbeing.
Locally sourced, seasonal produce. Gentle to the body, gentle to the environment.
Sip on a king coconut and enjoy the gentle sea breeze as you savour gourmet Talalla flavours in our stunning open-air restaurant pavilion.
Vibrant tropical fruit, crisp seasonal fresh vegetables and fresh local seafood feature prominently in our traditional Sri Lankan delicacies and international favourites.
We are proud of our low mileage approach to food, sourcing local ingredients and produce from nearby markets and fishing villages.
Much of the resorts herbs and spices are grown organically on the property, while other seasonal ingredients are sourced fresh daily from local markets and fishermen.
Start your day with a menu of tropical fruits, buffalo curd, fine cut oats, fresh coconut, homemade papaya jam and swiss pancakes. Follow up with eggs-any-style, omelette, fresh dhal and coconut curry.
Of course, while in Sri Lanka, the finest leaf tea is served to you in a traditional teapot. Or, elect to take a just-made fruit juice of local mango, watermelon or pineapple, or a traditional banana lassi.
At midday, lunch is either a la carte, with local favourites such as sour mango curry, or international options including vegetarian burritos and panzanella.
This buffet is perfect for all food desires, from those that wish to feast before their afternoon Surf to those who wish for something light fresh and health, the Lunch Menu at Talalla has you covered.
Dinner each night is an event, with highlights including fresh tuna sashimi, or garlic barbeque prawns. Local tastes are explored with okra, beetroot or banana flower curries, and red rice. Salads are a meal in themselves, and European eggplant bakes, potato au gratin or spaghetti napolitana serve as a taste of home. Desert delights with staples including banana cake, crème caramel or local pancake with coconut jaggery.
Served from 6pm. Our chefs prepare a selection of dishes each evening to include starters, mains & desserts. This three course set menu costs $15. During peak times, a buffet dinner will be served, that includes soup, salads, freshly seared BBQ fish/chicken, curries, pasta and more. Vegetarians are well catered for.
Spa treatments
Cultivate calm at The Spa, offering the full complement of care for body and mind. The Spa is a haven to nurture your full self.
There is a wide range of treatments on the meny to discover.
Excursions and surroundings
An amazing excursion is included in the price.
Elephants in Udawalawa
Comprising approximately 30 000 hectares of marshes, forests and grasslands elephants sightings here are guaranteed. There is also an abundance of birdlife, deer, crocodiles, and if you are lucky – even leopards. Nearby is the elephant rehabilitation center, where you can watch the baby elephants' feed and shower – gorgeous!

- Departure: 4:30 AM or 11 AM (take away breakfast for early departure can be arranged) Return: by the afternoon or evening
- Distance: 80 km, 2 hours' drive by minivan one-way
- Activity time: Safari for about 3 hours
- Costs: Included in your price
- Entrance fee (not included, to be paid on spot): Ca 3.500 LKR per person (ca 25 EUR) depending on group size.

Climate
The weather averages 27ºC and only gets chilly in the mountains. In the south where this retreat is located the temperature rarely rises above 35ºC.
There are two distinct monsoon seasons – in the Northeast, the season runs from is December to March and in the Southwest from May to October. However, whilst the rain is regular and plentiful it only lasts for an hour or so each day so the monsoon is actually quite a pleasant time to be here.
The good news is that southern Sri Lanka is enjoyable to visitors all year round. Even monsoon times are blue-sky days with a spectacular evening thunderstorm. For many this is the most exciting time of the year. The driest times of the year are between November-April. Overall, Sri Lanka is a year round destination, the south especially so.


Travel and facts
Included:
- Accommodation 9 nights in double/twin room ensuite shared with the same sex. Single room might be possible depending on availibility. You can see the single supplement when you click on "Book on request" in the first step before you make any registration.
- Breakfast and dinner all days (dinner on arrival day and breakfast on departure day depending on your schedules)
- 2 classes a day (except arrival and departure day and very likely not on the excursion day). The morning class is of Alignment Flow nature with a guided meditation at the end. The PM class is of more restoring/ intuning nature like Pranayama, Yinyoga, yoga Nidra or Restorative Yoga.
- 2 talks on yoga by a renowed Yoga Master as Ulrica
- 1-2 technical labs
- Excursion to nature reserve and elephant rehabilitaion center (transport only). Entry fee (3000 LKR) and safari jeep (ca 1000 LKR per person) not included, have to be paid in cash on spot. The driver can stop at an ATM on the road if necessary.
- Group transfer from and to the airport
- 1 ayurvedic massage
Not included:
- Flights
- Lunches
- Entry fees during the excursion
- Other treatments and other excursions
Travel: Fly to Sri Lanka, Colombo.
Transfer: A group transfer is included in the price (appr 3 hours). You might have to wait on the airport for other participants to arrive before the transfer departs. The same applies at departure if your flight is later than others. If you want a separate transfer it is possible to book that for an extra cost.
WiFi: Yes
Pool: Yes, 20 x 9 m
Yoga equipment: Yoga mats and other yoga equipment is available but you are welcome to bring your own.
Spa: Yes, possible to book massage and other treatments during your stay. There is a wide meny of treatments to choose from.
Tips: Tips are expected (cleaner, porter etc.)
Special diets: No problem, let us know when you book.
Age limit: No children.
Currency: Sri Lankan Rupees (LKR). 1000 LKR = ca 6 EUR (June 2017). There is an entry and exit limitation of 5000 LKR. You can find ATMs at the airport and in cities and villages. USD works in certain places.
Credit cards: The retreat accepts Mastercard and VISA (not debit cards or AMEX).
Electricity: Type D electrical plugs and sockets. Known as the Old British Plug it can often be found in countries that were originally electrified by the British. It has three large round pins in a triangular configuration,
Visa: For a short visit to Sri Lanka travellers should obtain an Electronic Travel Authorization (ETA). It is possible to apply online here: www.eta.gov.lk
Vaccinations: Please check with your doctor.
Misc.: Many participants might be Swedish because of Ulricas origin and present domicile, however the English language will be mostly used. If you not want to be waked up early by the sounds of birds and the jungle we recommend you to bring earplugs.