Spain, Tenerife – Core Strength Vinyasa Yoga Retreat with Karin Thyr Eriksson
Restore, recover and retrieve the best version of yourself!

Welcome to a genuine yoga retreat in Tenerife amidst mighty mountains and valleys. Get inspired and get new energy through yoga, conversation, creative writing and meditation.
Mandala de Masca is a dedicated yoga retreat centre developed by yogis for yogis. With the love of yoga and the yogic way of life the owners have created an exclusive yoga accommodation to give you a wonderful yoga holiday experience. Surrounded by beautiful nature, birds singing in the valley, the clean oxygen, the freshness of the water directly from the spring, the shapes of the rocks, the light of the stars and the wide mountain views will help you to activate all of your senses to reconnect and find your love inside. Walk the valley, climb a mountain, explore the seaside and the beaches. Swim in the pool with valley view, find your own private meditation spot or just relax in one of the comfortable hammocks – there are enough hideaways. With hand-picked ingredients from our own organic gardens, our yogi chefs create Garden-to-Table meals three times a day, healthy bites in between and all delicious natural drinks you desire .
We constantly face new challenges in our everyday lives. It is easy to get caught up in a never ending race and lose track of yourself. During this week you will have the opportunity to remind yourself of who you are and challenge both your body and mind in flowing Core Strength Vinyasa classes as well as more meditative Yinyoga classes.
Together we will move, sweat, laugh and meet ourselves on the mat just as we are without being judged or questioned. Get unstuck and let go of what no longer serves you. Explore who you are when you step on the mat without expectations. Deepen your relationship with yourself through meditation and creative writing.

Set the tone for the summer and boost your body and soul with ecologically grown foods, green drinks and healthy snacks.
Accommodation and meals
This is a dedicated yoga retreat centre developed by yogis for yogis, situated in the middle of Tenerife's beautiful nature amidst mighty mountains and valleys. It is just over 500 meters to the small picturesque mountain village of Masca with an impressive view. The village is beautiful with houses that balance on the cliff, adjacent to narrow mountain ridges and dramatic rock formations. In the past, Masca was primarily a agricultural village but today Masca lives mostly on the visiting tourists coming to watch stunning views. The village has a few restaurants, café and bar and a souvenir shop. Masca is also the starting point for one of Tenerife's most famous hiking trails, "Barranco de Masca".
There are 10 rooms, 2 outdoor yoga decks, a nice indoor shala, a lounge with fireplace, a biological freshwater pool, a meditation terrace and a wonderful garden with many plants, flowers of all colors, palms and fruit trees. Here you can always find a place for yourself if you want to stay away for a while.
7 of the rooms are double rooms, 2 are triple rooms and one room has two bunk beds for a family or friends who know each other. All rooms have a private bathroom.
You are served three meals a day as well as access to fruit, tea and water. The food is of course cooked on site and mostly organic and always vegetarian. The Yogi chef has taken inspiration from many food cultures around the world and has created a tasteful retreat menu with hand-picked ingredients from their own organic gardens and with everything your body needs including super-healthy drinks.
You can also book massages, make excursions, enjoy at the pool and participate in workshops.
Yoga & your teacher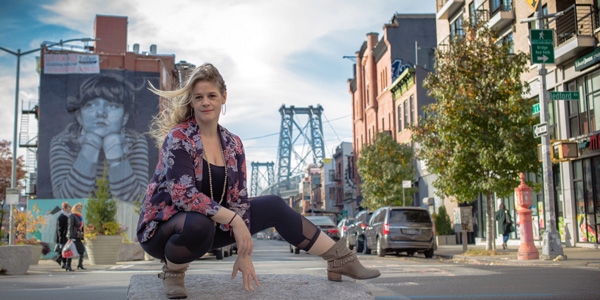 Karin Thyr Eriksson is a certified RYT 500 Master Teacher in the style of Core Strength Vinyasa yoga. Trained by the founder Sadie Nardini. She is also a Yinyoga teacher, musician and artist. She created the concept yoga for musicians and is also a blogger and freelance writer for the magazine Yoga World.
Karin offers a modern take on the yogic lifestyle. Her inspiring way of looking at life off the mat gives a new refreshing perspective on old patterns and traditions.
CSV Yoga is a modern approach, a booster that can take your yoga practice to a new level. It strengthens you from the inside out so you can tackle life and stand solid in your own truth and your expression. CSV yoga creates freedom, transforms and revolutionizes. Move and flow on the mat in a new way. Build from the ground upp - in your unique expression in a strong body that lasts.
Program
Every day you get two wonderful yoga classes, one physical and dynamic (Yang) and the other in silence and conscious presence (Yin). In Eastern traditions, people talk about the balance between Yin and Yang. These are opposites to each other but both are needed to achieve balance, and in our modern society it is perhaps our greatest challenge to find balance in life.
A normal day looks like this:
| | |
| --- | --- |
| 08.30-09.40 | Yoga |
| 09.45 | Breakfast |
| | Free time (lunch, sun, pool, rest, walks, excursions etc.) |
| 17.00-18.10 | Yoga |
| ca 19.00 | Dinner |

On the day of arrival, there is only one evening class for those who have arrived.
On the day of departure, there is only one morning class if it works with regard to the participants' departure times.
Morning class: A dynamic Core Strength Vinyasa flow (70 min)

Start your day off in a way that strengthens you from the inside out. In CSV yoga we move from the ground up in a natural organic way. There is plenty of ways to modify after your preferences and the class is always taught in a pace where you are connected to your breath. Get on your mat, wake up, build strength, gain flexibility, sweat and have fun in creative classes tailored specifically for this week.
Afternoon class: Yin yoga (75 min)
Yin yoga is a passive meditativ yoga based on seated or lying positions. We stay in each pose for a longer hold. Longer passive holds like these helps us lubricate the fascia resulting in more mobility and flexibility. Yin yoga is a practice of letting go and trains us in experiencing the here and now in both body and mind.

Yin yoga is a great compliment to other more physical workouts and a gate to stillness for the mind and soul.
Mala Workshop
A creative workshop where you get to make your own Mala necklace.
We end with short guided meditation were you can lay down your own intention or core message in your Mala.
---
Other activities during the week:

- Excursions
Book your place on one of the following excursions and activities. The prices apply if at least 12 people book the respective excursion.
Mount Teide: We leave Masca at 8:30AM by car and we take breakfast with us. At Mount Teide we stop at a hill overlooking the crater for some meditation (depending on the weather at 2400m). If possible the group can sit for meditation otherwise the group walks in silence. After meditation the group can explore and take photos and have breakfast. We drink a coffee at a coffee point and take some more photos before we leave; Cost is transport (Euro 20,- per person, paid on site)

Lunch at Hippy Beach: The hippy beach is a secluded beach that we go to often with groups. We need to drive 30 minutes before we take a 20 minutes walk to discover a beautiful beach with not so many people and a few wannabee hippies. Nothing only beach and sea. We take lunch with us and we normally picnic. We spend 3 hours on the beach before we go. Cost is transport. (Euro 20 per person, paid on site)
- Meditation & Creative Writing
In this voluntary workshop you get the tools to get started with your writing. All the answers are within you. Open the channel and the communication between your outer and inner with creative writing and meditation. Included at no cost.
- Workshop CSV Yoga:
Are you thinking of becoming a yoga instructor or are you a yoga instructor and curious about CSV Yoga? If there is interest in the group, Karin offers a workshop of 90 minutes in addition to the regular classes, with a focus on getting to know the style CSV Yoga.
You can also book a personal yoga session with Karin at an additional cost.
About Tenerife
Tenerife is an island in the Spanish Canary Islands off the north-west coast of Africa. The island is very diverse in geography. Here you will find spectacular coastal scenery, beautiful beaches, lush forests, exotic plants, high mountains and barren deserts.
The island's foremost characteristic is the enormous Teide volcano, 3718 meters above sea level. There are both car roads and cabin tracks on the mountain.
Read more about Tenerife on Wikipedia.
Travel & Facts
Included in the price:
- Shared room with private bathroom.
- Vegetaran full board
- Yoga sessions twice a day (not arrival and departure day)
- All yoga props such as mats, bolsters, belts. Bring your own mat if you have one you like, and it might feel more hygienic as well.
- Return airport transfer
Not included in the price:
- Flight ticket
- Excursions
Single room: Single room is possible with the supplement as seen when you click on "Book on request" in the first step before you make any registration.
Travel: Flight to Tenerife. The main airport for international flights is Tenerife South (TFS) / Aeropuerto Reina Sofía.
We recommend you not to book the flight before you have recieved a booking confirmation/invoice from us.
Flights can be booked by yourself, or send us an email and we are happy to help you. Our booking fee is 30 EUR per person.
Transfer: A group transfer from the airport is included in the price. You have to inform InShape Travel about your flight details if you book your flight yourself. You might have to wait on the airport for other participants to arrive before the transfer departs. The same applies at departure if your flight is later than others. If you need or wish to have your own separate transfer it is possible at an additional cost.
WiFi: Yes

Swimming pool: Yes, a biological pool, not huge

Yoga props: Everything needed is provided, but bring your own mat if you want.

Special diets: Let us know when you makeyour boooking if you have any special diet or allergies.

Age-limit: No

Electricity: 220 V, Europlug

Local currency: EUR