Malta, Gozo - Yoga Retreat with Sean Yuen
Six kilometers north west of Malta you can find Gozo, the island with the fairytales calypso cave. The island is quiet, green and has less traffic than Malta. Gozo is about 16 km long and about 8 km wide. The capital is Victoria, often called Rabat. Here you can find our retreat center in the village called Xaghra which is located about 15 minutes from Ramla Bay which is one of the most popular beaches in Gozo.

Sean Yuen who is your yogateacher travelled around the world to get his education and took small pieces here and there to continue his own development both as a teacher and a person.
You can choose between two different retreat:
• Aerial Yoga & Detox Retreats
• Yoga & Diving Retreat
Accommodation & food
During the week you will stay in the village Xaghra which is about 15 minutes from Ramla Bay, which is one of the most famous bechaes in Gozo. You will only be about 10 minute walk from the village center. The retreat can accommodate up to 25 people in 3 different houses. You will be staying in either one of the shared room or a double room with your partner. Single room is also possible. All the rooms are designed with soft color. The kitchen, bathroom, and living room are shared. You are free to use the private swimming pool, and visit the treatment room to book a massage or acupuncture treatment.
Fullboard is included in the holiday and you will be served delicious glutenfree vegetarian meal three times per day. With the use of juicing and fermented food we make sure your guts are well served and nourished.
Program
Preliminary schedule:
Aerial Yoga Retreat
Day 1
14:00-17:00 Arrival
18:00-19:00 Aerial Yoga
19:00-20:30 Dinner

Day 2 – 5
08:30-09:30 Aerial Yoga
09:30-10:30 Breakfast
10:30-12:00 Aerial workshop / Free time
12:00-13:00 Lunch
13:30-17:30 Sightseeing / Swim / Free time
17:30-18:30 Aerial Yoga or Hatha Yoga outdoors
19:00-20:30 Dinner
20:30-21:00 Meditation (optional)

Day 6
08:30-09:30 Aerial Yoga
09:30-10:30 Breakfast
11:00 Check out
Diving Retreat
Day 1
14:00-17:00 Arrival
18:00-19:00 Yoga class (Hatha or Aerial)
19:00-20:30 Dinner
Day 2 - 4
07:00-07:30 Breakfast
07:45-11:30 Morning Dive (for 3 days)
12:00-13:00 Lunch
13:30-17:30 Sightseeing / Swimming/ Free time
17:30-18:30 Yoga class (Hatha or Aerial)
19:00-20:30 Dinner
20:30-21:00 Optional meditation
Day 5
07:30-08:30 Yoga class (Hatha or Aerial)
08:30-09:30 Breakfast
09:30-12:00 Free time or Massage
12:00-13:00 Lunch
13:30-17:30 Sightseeing / Swimming/ Free time
17:30-18:30 Aerial Yoga or Hatha Yoga outdoors
19:00-20:30 Dinner
Day 6
08:30-09:30 Yoga class (Hatha or Aerial)
09:30-10:30 Breakfast
11:00 Farewell
Yoga & your teacher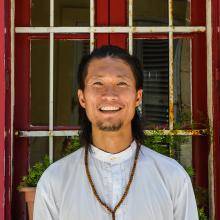 Aerial yoga is a combination of yoga, Pilates, and acrobatics performed on a hammock or swing made of silk or parachute fabric hung from the ceiling or a bar, in order to achieve a total-body workout. Aerial yoga helps you detoxify your body, rejuvenate your facial muscle, bring joy and satisfaction to your lives. Join this retreat to learn this amazing skills, together with delicious vegetarian meals, cooking classes to upgrade your diet, and sightseeing activities in the island of joy!
Your yoga teacher for the week is Sean Yuen. He practice yoga since 2009, learning in Hong Kong and Australia. He became a Registered Yoga teacher in India in April 2014, mainly focusing his practices in Hatha yoga, Yin yoga and Yoga therapy. He likes to combine his knowledge of Traditional Chinese medicine with Yoga to attain a better therapeutic result as well as a preventive health measure for everyone.
The more he practice, the more he realizes that his knowledge is limited, and the more he wants to learn and dig deeper into the healing world. That is another reason (beside seeking for freedom) to set off his travel and be a student of the world.
"In Thailand, I learnt how to identify and use some local herbs.
In India, I learnt the real meaning of yoga.
In Nepal, I dived into meditation practice.
In Finland, I revised my Qigong and Taichi practices.
In Belgium, I learnt about Reiki."
"The list will keep going, as there are no ending of pursuing all the knowledge.
To be a healer is my lifetime mission, and I want to do it at my best. That's why I have to keep learning, and improving my skills."
Travel & Facts
Included:
- Accommodation in shared twin room (single room with supplement)
- Fullboard
- All yoga classes
- Some excursions

Not inlcuded:
- Flights
- Massage and other treatments
- Extra excursions
- Transfer

Single room: Can be booked with a supplement if there are rooms available.
Travel: Fly to Malta (MLA). When you arrive to Malta you take a taxi or the bus to the harbour where you catch the ferry to Gozo.
Transfer: Is not included but you can book a transfer. If you want transfer you book it through us.
1. From Malta Airport, you can take the bus X1 (right outside the airport), all the way to the last stop Cirkewwa which is the ferry terminal. It takes around 60-75 mins depending on traffic.
You can check the schedule here:
https://www.publictransport.com.mt/en/route/X1
Then wait for the ferry, no need to pay, you only pay on the way back, the schedule is here:
http://www.gozochannel.com/en/schedules.htm?mobile=1
It takes around 30mins on the ferry.
Enjoy the view and sea breeze.
Once you are in the Gozo side, please take the bus 322 to direction Marsalfon, and get off at the bus stop "Masri". It takes around 20mins. The schedule is here:
https://www.publictransport.com.mt/en/route/322
Then the retreat villa is just right next to the bus stop.
2. You can book a pick up service from airport to Masri Villa for 45€ one way. And you pay directly to the driver by cash.
3. You can follow the first option (bus and ferry) until you get off the ferry. Then I can arrange a driver to pick you up from Gozo ferry terminal to the villa 15€ one way.

WiFi: Yes

Pool: Yes

Yoga equipment: All equipment that you need is available but you are welcome to bring your own if you want to.

Dricks: If you are not unhappy with the service provided it is common to leave a tip.

Special diet: Let us know when you book.

Age limit: No

Electricity: 220 V, Europlug works

Currency: EUR
Credit card: Accepted in restaurants and stores. We recommend having some Euros cash for small purchases and tips.
Carbon offsetting
Du kan enkelt klimatkompensera din resa direkt hos oss när du fyller i din bokning, och du ser där direkt vad det kostar. Vi samarbetar med svenska GoCLimateNeutral och beloppet går till att byta ut ved- och kolspisar till soldrivna spisar på kinesiska landsbygden i ett FN-certifierat Carbon offsetting your air travel is a good way of taking responsiblity for the emissions caused by it. You can easily carbon offset your trip directly with us when you complete your booking, and you will immediately see what it costs. We collaborate with the organisation GoCLimateNeutral and the amount goes to replacing wood and coal stoves for solar-powered fireplaces in the Chinese countryside in an UN-certified climate project that has the Gold Standard certification. If you want to dive deeper into the climate compensation, you can find more info here.