Bali – Detox, Yoga and Meditation on magical Bali
| Several dates |
Join us for a fantastic yoga trip to magical Bali! It is the perfect island to dive deeper into your yoga and meditation practice. The island is surrounded by spectacular white sand beaches which we of course visit during the week.
This is what you get:
- Great yoga classes
- Meditations
- Well tasting vegetarian meals
- Detox
- Nice accommodation in a retreat center
- Traditional Balinese massage
- Excursions
The program includes quite soft yoga classes with some focus on relaxation and meditation, workshops, excursions, healthy meals, time for relax and opportunity to inspire and to be inspired.
The yoga is tranquil, provides presence, energy and deep relaxation.
You stay in the wonderful Santi Mandala Villa & Spa. Watch this video >>
Excursions & Stay longer
Excursion included in the price

- Full day to Ubud. Visit Holy Water Temple, Gunung Kawi Temple. Lunch at Sari Organic, an ecological restaurant located between the ricefields, during the afternoon you will have a a few hours on your own in Ubud.
This program can be changed due to local circumstances.
Stay Another Week

If you think it is far to travel to Bali and only stay one week you can choose to stay some extra days. One option is to go to Gili Islands for 3 days, 2 nights. It is a package that you can choose, it includes one extra night at Santi Mandala and 2 nights in Gili Islands, transport to and from Gili, accommodation and breakfast.
Here are some excursions we can help you arrange on the Saturday before the yogaweek or on the Sunday after the yogaweek:
1. Excursion to Besakih temple, Tenganan Traditional Village and spend the afternoon on White Sand Beach.
2. Climb Mount Batur which is a 1700 meters high volcano mountain. You will leave the hotel at 2.30am and meet the sunrise and a fantastic view on top of the mountain. You will have breakfast there before starting to climb down. You can finish your day with a visit to the hot springs.
3. Full day excursion to Ubud. Visit some of the cozy Rawfood restaurants or experience a yogaclass at yogabarn or Raiantly Alive, both fampus yoga places in Ubud.
4. Cooking class/ Rawfood class. We arrange a half day where you get to learn traditional Balinese food and also try to make Rawfood food. This is arranged at Santi Mandala.
Yoga & Detox
Detox
Every day we start with a wonderful detox procedure where we cleanse both body and mind. Some of the yoga sessions are focused on poses that helps the body release toxins.
Yoga
Every day you participate in a 90 to 120 minute yoga session both morning and evening. The yoga sessions include movements (asanas), yoga dance, self massage, guided deep relaxation, chanting and meditation.
The yoga we practice on this trip is called Rajadhiraja Yoga and is based in Patanjalis system of Ashtaunga Yoga. Ashtaunga yoga means eight limbs of yoga and includes ethical guidelines (yama and niyama), physical postures (asanas), withdrawal techniques of the mind, concentration practices, breath exercises, dhyan (deep meditation) and also a practice of complete enlightenment.
The poses are similar to those that are practiced in Hatha Yoga, Raja Yoga, Iyengar Yoga and other styles of yoga. The difference in Rajadhiraja Yoga asanas is that the poses are repeated several times, usually four or eight times and that you hold your breath for about eight seconds in each pose. This makes the asana work deep on nerves and glands and leads to a release of energy which makes you feel relaxed, calm and at the same time filled with lots of energy after a yoga session.
It also creates an effect that stays with you, long after the yoga session is over. In Rajadhiraja Yoga asanas the practice is calm and contemplative and gives you more energy and increased consciousness.
Every session is always concluded with a self massage which work to help the lymphatic flow in our bodies. During asana practice our sebaceous glands produce a fine secretion, this is very beneficial to gently rub back into the skin. It is also just a beautiful thing to get in touch with every part of your body after a session.
Many persons believe you have to be very flexible to be able to do yoga. This is quite a common misunderstanding. It doesnt matter how flexible you are and the goal of yoga is not to become flexible or get a beautiful body. When we practice yoga we focus on finding harmony between our breath, movement and intention and how they flow together. We try to become conscious of ourselves. The most important in yoga is to be present in body and mind. You just need to be what you are right now. Nothing else is needed.
Yoga teacher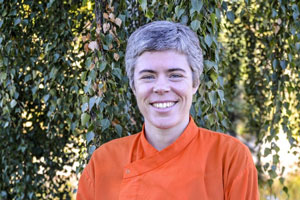 On this trip you will be guided in yoga and meditation by Didi, and she will also be the tour leader.
Didi is a yogic nun and a yoga and meditation teacher since 15 years back. Didi has been teaching yoga and meditation in Taiwan, Sweden, Russia, California and Malta.
In the year 2000 she dedicated her life to become a yogic nun and meditation teacher according to Ananda Marga and P.R. Sarkars teachings. Those teachings have two main principles, service to others and self realization. She underwent a rigorous training for three years during which she was isolated from the world and practiced hours of intensive meditation and yoga everyday.
She is a certified Yoga Alliance yoga teacher. Didi has also undergone a training in MediYoga, at the Institute for Medicinal Yoga in Stockholm, Sweden.
In addition, Didi has also education to teach Yin Yoga. She has been studying with Sebastian Puceller and Murielle Burellier who has been educated by Paul Grilley, the orginator of Yin Yoga.
Didi is a certified Enneagram coach. The Enneagram is a model for human development and a tool for developing more compassion and understanding for others.
Before Didi chose to dedicate her life to become a yogic nun, she underwent training in theater, movements, acrobatics and clown in Denmark and California. This is now a foundation in all her teachings and makes her workshops fun and interesting.
Accommodation
We will be staying at the beautiful Santi Mandala Spa and Villa. A very nice hotel close to Ubud, the hotel has a calmness aorund it that spreads throughout your whole body. There is a river running through Santi Mandala so you hear the sound of water when doing yoga.
You will be staying in twin rooms in beautiful Balinese villas. Each villa has its own bathroom with shower some with open sky. There is a big pool where you can send time when you are not doing yoga, have workshops or is away on excursions.
At the hotel there is a spa wheere you can book treatments such as massage, pedicure or maybe a facial. The staff at Santi Mandala is very friendly and helpful and will do what they can to make sure you have everything you need.
Most of the time you will spend with the group socializing but if you prefer to be more on your own you are of course able to do so.
The food during the week is vegetarian and consists to the bigger part mostly of fruit, vegetables, nuts, seeds, brown rice and homemade fresh yoghurt. All gluten, white rice, sugar and most dairy will be completely avoided.
Travel & Facts
Included in the price:
- 7 nights in shared double/twin room
- Full board, vegetarian
- Two yoga- and meditation classes every day
- Excursion
- Private meditation coaching possible
- Workshop about health and wellness for body and soul
Not included:
- Flight ticket.
- Transfer from and to the airport. A taxi costs around 25 EUR one way. You will get more details about transfer in the booking confirmation.
Travelling:
Flight to Denpasar. Flights can be booked through e.g. www.skyscanner.com, or send us an email and we are happy to help you.

Do not book your flight before you have received information from us that the minimum number of participants is attained.
If you have booked transfer you will be met by the driver in the arrivals hall with a sign with your name on.
Misc.:
There is Internet connection, but we recommend you to stay offline as much as possible.
If you need a visa depends on which country issued your passport, please check with the Indonesian embassy in your country. Your passport needs to be valid for 6 months after your departure from Bali.

Carbon offsetting
Carbon offsetting your air travel is a good way of taking responsiblity for the emissions caused by it. You can easily carbon offset your trip directly with us when you complete your booking, and you will immediately see what it costs. We collaborate with the organisation GoCLimateNeutral and the amount goes to replacing wood and coal stoves for solar-powered fireplaces in the Chinese countryside in an UN-certified climate project that has the Gold Standard certification. If you want to dive deeper into the climate compensation, you can find more info here.
Climate
The charts show Denpasar, Bali.